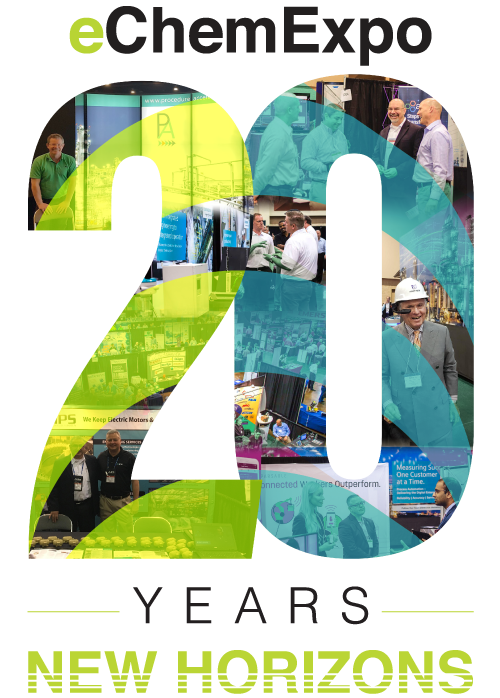 The 11th eChemExpo Solutions Marketplace &Technology Innovations Conference has been rescheduled from April to October 6-7, 2020 in Kingsport, Tennessee; home to the chemical industry's largest single chemical processing complex. The Expo will be one day, Wednesday October 7. The Conference will one and a half days starting Tuesday at 11:00 am, October 6. Moving part of the conference to Tuesday afternoon allows us to free up more "Exhibits Only" time on Wednesday.
UPDATE: See COVID-19 alert for rescheduling background information.
Next steps if you are already an Exhibitor
Next steps if you want to become an Exhibitor
The Exhibitor Space Application Form is still available.
If interested in exhibiting, please either fill out and submit the online form, or download the pdf form and email to us at kingsport@eChemexpo.com. You will need Adobe Acrobat Reader to view and edit the PDF.
The following five links provide additional information to help you decide your preferred space location, level of participation and the online submission form for proposed seminars.
2020 Theme & Focus Areas
Based on in-depth stakeholder interviews to determine real purchasing needs for the 2020-2021 timeframe, the meeting theme is NEW HORIZONS: SAFELY INNOVATE, OPTIMIZE & GROW!. The six focus areas where exhibitors are challenged to demonstrate breakthrough or significant developments are:
Safety & Environment
Capital Effectiveness
Digital Transformation
Mobility & Cybersecurity
Capability Enhancement
Sustainability
We are particularly interested in new content and exhibits related to innovations for "Accelerating the industry comeback from the Covid-19 Pandemic"