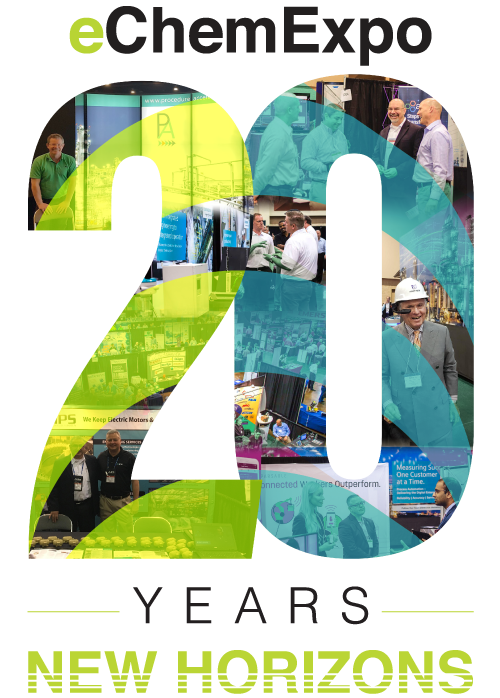 The 11th eChemExpo Solutions Marketplace &Technology Innovations Conference is scheduled for April 15-16, 2020 in Kingsport, Tennessee; home to the chemical industry's largest single chemical processing complex. The Expo will be one day, Thursday April 16. The Conference will one and a half days starting Wednesday afternoon, April 15. Moving part of the conference to Wednesday afternoon allows us to free up more "Exhibits Only" time on Thursday.
UPDATE:  See COVID-19 alert for possible rescheduling.  If you register now, you will receive an update if the event is rescheduled and will have priority space section based on what is still available now.
Next steps if you want to become an Exhibitor
The Exhibitor Space Application Form is now available.
If interested in exhibiting, please either fill out and submit the online form, or download the pdf form and email to us at kingsport@eChemexpo.com. You will need Adobe Acrobat Reader to view and edit the PDF.
The following four links provide additional information to help you decide your preferred space location, level of participation and the online submission form for proposed seminars.
2020 Theme & Focus Areas
Based on in-depth stakeholder interviews to determine real purchasing needs for the 2020-2021 timeframe, the meeting theme is NEW HORIZONS: SAFELY INNOVATE, OPTIMIZE & GROW!. The six focus areas where exhibitors are challenged to demonstrate breakthrough or significant developments are:
Safety & Environment
Capital Effectiveness
Digital Transformation
Mobility & Cybersecurity
Capability Enhancement
Sustainability
Schedule
Exhibitor sign-ups will begin by August 8, 2019 and early bird discounts will be effective thru December 8, 2019 (4+ months ahead). Following is the general schedule for development of the 2020 eChemExpo & Conference:
August 8: Space Application forms available to exhibitors
September 15: The "2018 Guide to Exhibitors" to be posted for download on this web page
October 15: First round of Exhibit Space assignments
November 1: Due date for first round of 100 word abstracts of proposed seminar topics. Submit abstracts and bios
November 20: Due date for Gold and Silver Sponsor proposed seminar topics with 100 word abstracts AND FOR the second round of 100 word abstracts from OTHER companies. Submit abstracts and bios.
November 20: Second round of Exhibit Space assignments
December 5: If seminar space is still available, this is the final due date for abstracts to be submitted for consideration.
December 8: Last day for early bird pricing discount
January 8: Online registration opens
January 20: Begin providing customized electronic GUEST PASSES for exhibitors to invite customers and prospects for complimentary admittance to the expo and conference