Safety & Environment


Capital Effectiveness

Rapid Execution


Mobility & Cybersecurity


Capability Enhancement


Sustainability


Digital Transformation
eChemExpo is confirmed for April 20-21, 2022. New content continues to be added keep an eye on the conference overview and exhibitor list. An update on the new Covid Management protocol is provided below. Please sign up for our mailing list to be alerted to any updates. (updated December 14, 2021)
UPDATE TO COVID SAFEY & HEALTH GUIDELINES (April 3, 2022)
We are pleased to report that Sullivan County, where eChemExpo is held, has been in the CDC Covid related "Green Zone" (i.e., low risk) for a number of weeks now. As such, eChemExpo has relaxed the previously stated Covid Health & Safety Guidelines so that masks are now optional and no proof of vaccination or negative Covid test is required. Wearing of masks is at your own discretion. Different requirements may be imposed should current conditions change.
NEW HORIZONS: Safely and Sustainably Innovate, Optimize and Grow.
The Process Industries #1 multidisciplinary applied innovation gathering in the Americas!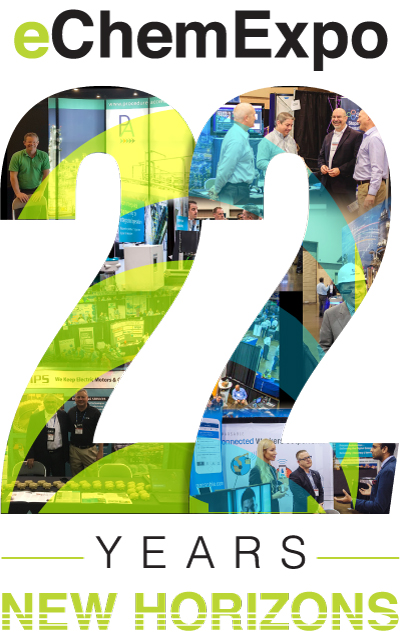 eChemExpo is now confirmed for April 20-21 with the main Expo on Thursday, April 21 and the pre-Expo seminar program beginning Wednesday, April 20 and continuing all day on Thursday April 21. We expect to have some 200 exhibiting companies and at least an 80 seminar conference program in 9 or 10 niche specific tracks.
This will be the 11th eChem Expo and Conference and also our 23 year anniversary!
The EXPO will still be one day, Thursday April 21. The Conference, however, starts Wednesday, April 20 at 11:00 am, and continues through Thursday, April 21 at 4:30 pm. A closing keynote has been added which extends the closing to 5:30 pm. The addition of pre-Expo day seminars provides a 2-day conference and frees up more "exhibits only" time on Thursday, the main Expo day. We will also implementing new measures to accommodate post-pandemic safety and health related concerns.
Become an Exhibitor.
Mark Your Calendar with these important dates:
eChemExpo has been rescheduled to April 20-21, 2022 . There is still time to become an exhibitor, propose a seminar, and/or contribute in an Innovation Leader role
Complimentary registration to attend will open by January 5 2022.
Mark your calendar today!
Exhibitor List and Seminar Program
The Exhibitor List has been posted. There is still room to add new exhibitors and Innovation Leaders in the Conference program. We expect to have over 200 exhibiting companies. eChem Expo uses a stakeholder interview process to reinvent itself each time … so many new firms have been added for 2022. These interviews help determine real purchasing needs, emerging opportunities, and the best companies to include in eChemExpo 2022.
The Conference Program has been expanded to two days:
Wednesday, April 20: Seminars only.
The Wednesday program has 30 seminars in 3 tracks.
Thursday, April 21: Expo and seminars.
The Thursday program will have over 50 seminars in 6 tracks, featured panels, a Keynote, and a Closing Keynote.
Applied Innovation
eChemExpo organizers have worked hard to produce the third volume of Applied Innovation — a digital publication highlighting the wealth of information that exhibitors and speakers will share April 20-21, 2022. Choose from the fourteen (14) feature stories already published with with more to be added shortly. Reading these stories in advance will give you an idea of what to expect and offers a great way to expand on the knowledge you will gain from your experience at eChemExpo.
For a better idea of why eChemExpo has earned a reputation as the process industries #1 multidisciplinary applied innovation event of its kind, check out the 2022 program, the exhibitors, the Gold & Silver Innovation Leaders, and the Applied Innovation articles.
If you have any questions, please contact (626) 255-6462 or send us an email.