Safety & Environment


Capital Effectiveness

Rapid Execution


Mobility & Cybersecurity


Capability Enhancement


Sustainability


Digital Transformation
eChemExpo is now confirmed for April 17-18 with the main Expo on Thursday, April 18 and the pre-Expo seminar program beginning Wednesday, April 17 and continuing all day on Thursday April 18. We expect to have some 200 exhibiting companies and at least an 80 seminar conference program in 9 or 10 niche specific tracks.
Please sign up for our mailing list to be alerted to any updates.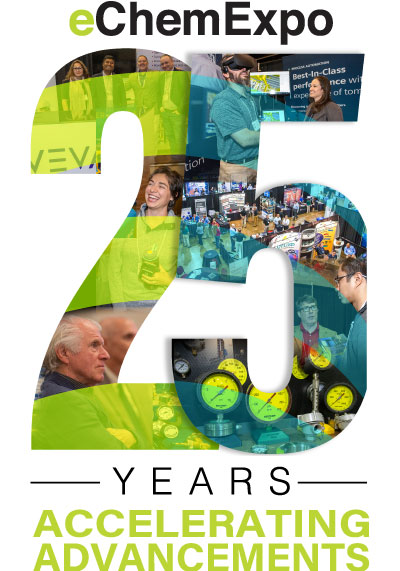 Accelerate Advancements in Safety, Sustainability & Operational Excellence
CONNECTING PEOPLE, PROCESSES & TECHNOLOGY
The Process Industries #1 multidisciplinary applied innovation gathering in the Americas!
This will be the 12th eChem Expo and Conference and also our 25 year anniversary!
Exhibitor List and Seminar Program
We expect to have over 200 exhibiting companies and more than 80 PDH accredited seminars. The 2022 Exhibitor List and the 2022 Conference Program are examples of what to expect for 2024.
Applied Innovation
For a better idea of why eChemExpo has earned a reputation as the process industries #1 multidisciplinary applied innovation event of its kind, check out the 2022 program, the exhibitors, the Gold & Silver Innovation Leaders, and the fourteen Applied Innovation articles, Applied Innovation, a digital publication highlighting the wealth of information that exhibitors and speakers shared in April 2022
If you have any questions, please contact (626) 255-6462 or send us an email.