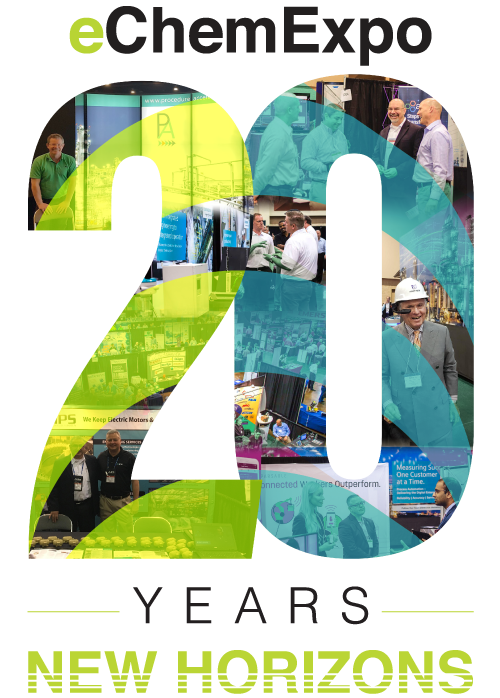 eChemExpo is held every two years in Kingsport, TN. Organizers have selected April 15-16, 2020 for the 11th eChem Expo and Conference is also the 20 year anniversary! The EXPO will still be one day, Thursday April 16. The Conference, however, will start Wednesday afternoon, April 15 and continue on Thursday. This approach frees up more "exhibits only" time on Thursday.
Register Now & Mark Your Calendar
Exhibitor List and Stakeholder Interview Process
The 2018 Exhibitor List shows over 200 companies who demonstrated their wares on April 5, 2018 and is a starting point for what to expect on April 15-16, 2020.
eChem Expo uses a stakeholder interview process to reinvent itself each time … so many new firms will be added for 2020. As of August 1, 2019, over 90 people have participated in stakeholder interviews to determine real purchasing needs for 2020 and 2021. These began in April and will continue through October of 2019. These interviews help determine real purchasing needs, emerging opportunities, and the best companies to include in eChemExpo 2020.
Applied Innovation
New stories about Innovation Leaders participating in eChemExpo 2020 will begin to appear in late January and continue up until the event. These articles will give insights on what these leading firms are bringing to seminars and the expo floor.
eChemExpo organizers worked hard to produce the second volume of Applied Innovation — a digital publication highlighting the wealth of information that exhibitors and speakers shared at the April 5, 2018 show. Choose from the eleven (11) feature stories leading up to the event (i.e., "Innovation Insights") and/or six post event summaries (i.e., "Expo Highlights") for an idea of why eChem Expo has become the process industries #1 multidisciplinary applied innovation event of its kind.
If you have any questions, please contact (626) 255-6462 or send us an email.