Industry 4.0 is Revolutionizing Decision-Making in Plants
An explosion of data is forever altering the way executives and operators do their jobs, according to automation specialists who addressed eChem Expo attendees in a panel discussion called "Enhancing the Speed and Quality of Decision Making with Digital Transformation."
"That's a lot of words," speaker Kendal Brown admitted after announcing the name of the session. But Brown, who serves as Eastman corporate automation and digital manufacturing manager, joined fellow presenters in emphasizing the importance of what amounts to a digital revolution.
In fact, observers are likening the current proliferation of digital information to a fourth industrial revolution or "Industry 4.0," according to speaker Roland Schneefus, Aveva vice president, North American chemicals. Steam engines powered the first industrial revolution, mass production marked the second and computers ushered in the third, Schneefus said. The fourth is happening as computers become interlinked and manufacturing becomes highly automated, he maintained, adding that the digital twins of plants play a key role .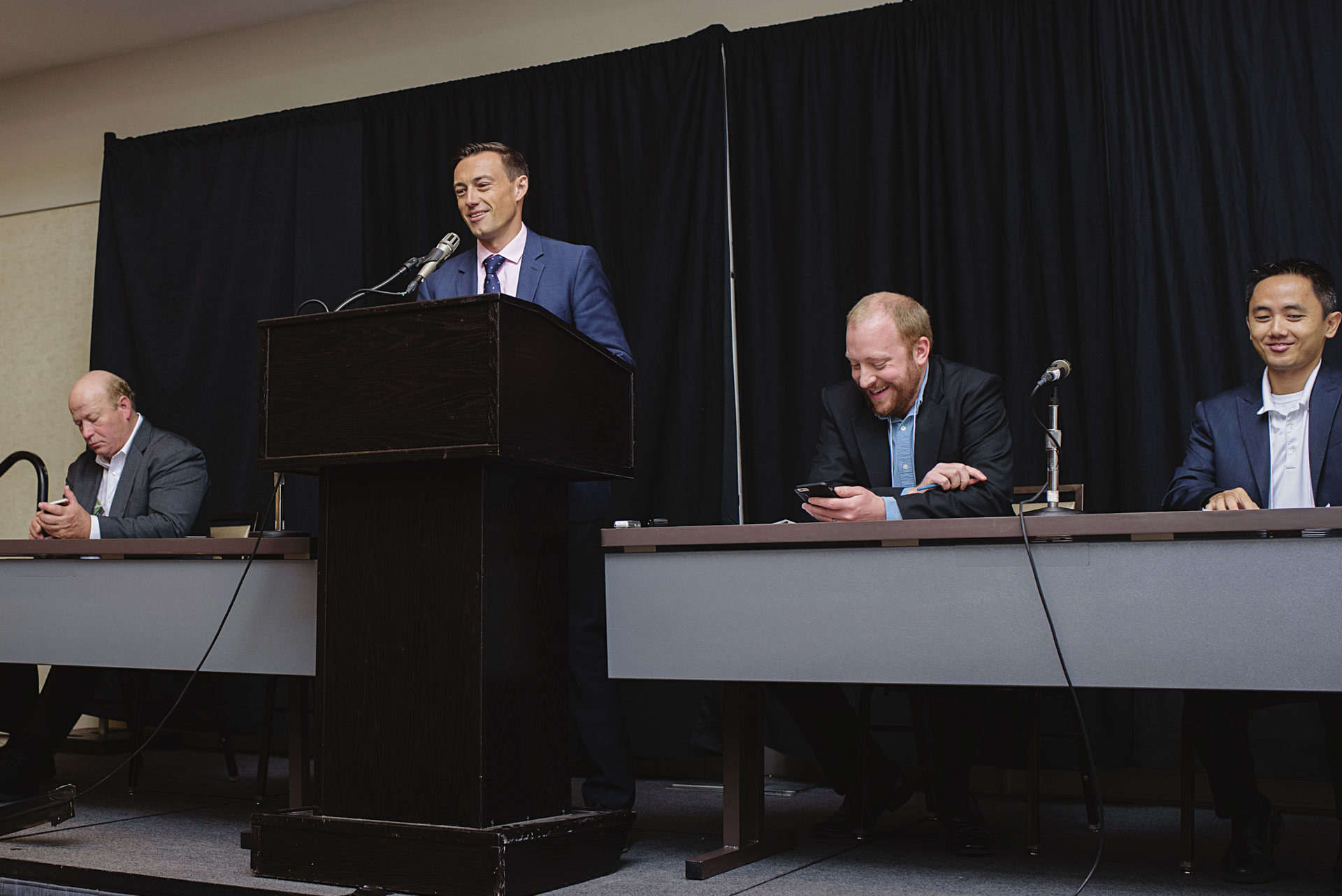 An explosion of data is forever altering the way executives and operators do their jobs.
Digitalization of plants is reducing total cost of ownership – or TCO – by introducing three elements, Schneefus continued. He summarized them as: 1. Increased uptime due to improved decision-making and the ability to react quickly to unforeseen events. 2. The capacity to do more with less and do it more safely by optimizing human-resource distribution. 3. Reduced project-execution budgets as decisions are made more quickly.
But harnessing digital Information can present challenges, Schneefus cautioned. Quoting a well-known bit of wisdom, he noted that 90 percent of the world's data has been created in the last two years. "The problem is our brains don't catch up," he contended. "We're not developing as fast as the technology is." That means plants need support to collect more data and use it effectively, he said, noting that visuals can help make data understandable.
Using data optimally can help plants bring better products to market more quickly to meet the needs of increasingly sophisticated customers, said speaker Fabio Teresaka, Siemens operations intelligence software manager. Data can also assist in determining the best use of materials and personnel, he said.
"The problem is our brains don't catch up as digitalization advances. We're not developing as fast as the technology is."
Roland Schneefus
Aveva Vice President, North American Chemicals
Digitalization augments electrification and automation,
Teresaka told attendees. All Siemens customers have electricity these days and the vast majority have automated to some degree, but digitalization represents the next step, he maintained. It can take the form of digital copies of artifacts in the real world to integrate all of the disciplines in a plant, beginning with conceiving of the product and then continuing from there.
The result is a single data hub that brings together information on piping, instrumentation, electricals, mechanicals and other functions, making that data accessible to employees in all of those areas, "Instead of making decisions in series, as you did before, it is now more integrated," Teresaka said. "In the future these disciplines will be even more integrated, reducing the time to marketplace," he predicted.
Even now, using an OT "chart of accounts" with layers of analytics can speed up and enhance the quality of decision-making, according to speaker Craig Harclerode, OSIsoft global oil/gas industry principal. "At the end of the day, it's about contextualization" for rapid decision-making – one of the processes his company performs to make data useful, he told his listeners. Data also requires OSIsoft's services for standardization and normalization, he added.
"At the end of the day, it's about contextualization" for rapid decision-making.
"How can you make decisions if you don't trust the quality of the data?" Harclerode asked rhetorically. Ensuring the data's accurate can build confidence in a digital twin of the plant – sort of a computerized mockup of the facility. The digital twin also provides a single source of data that's accessible to a wide range of users, he noted.
Eastman's Brown, who served as moderator of the session, delivered the panel's final presentation, saying that the company's structured effort for global manufacturing optimization began a year and a half ago. Eastman looked at emerging technology and challenged the new working group to figure out what it means for the company, he said.
Group members soon found that definitions of new technology sometimes aren't in agreement, but they believed that inconsistency could indicate opportunity, Brown noted. Although the team has a broad range of experience, they knew they couldn't speak for all 50 Eastman sites. So they surveyed company employees to discover "pain points" that technology might ease.
Group members believed that inconsistency could indicate opportunity.
Three trends "bubbled to the top" from the survey, Brown continued. First came mobility that could provide data on smartphones, tablets or other devices when and where employees need it. Second, survey respondents wanted "situational awareness" that would tell them at a glance what needs immediate attention and what doesn't. Third, employees need ways to pass along "tribal" knowledge from one generation to another.
From there, the group developed focus areas that could promote safe and reliable plant operations, Brown continued. Those areas include: mobility; knowledge capture and transfer; manufacturing data capture, storage and retrieval; data visualization analytics, automation and optimization; and business and manufacturing data integration, Brown said. Narrowing the choices to a few areas wasn't easy, but a longer list would have made focusing more difficult, he noted.
The Eastman team divided itself into sub-groups to study particular focus areas, Brown said. As an example of the findings, he provided a vision statement prepared by the sub-group that researched the area of knowledge capture and transfer. That team described the company's present state of development as dependence upon static, paper-based type of knowledge transfer.
The goal the group then established was to exchange that for a connected, interactive approach. It would be a change from Microsoft Word documents and hard copies to the electronic tools of a new generation of plant operators. The change promises to make the topic  of this panel a reality for Eastman: "Enhancing the Speed and Quality of Decision Making with Digital Transformation."