Richard Bonner says innovation and optimization are keys to growth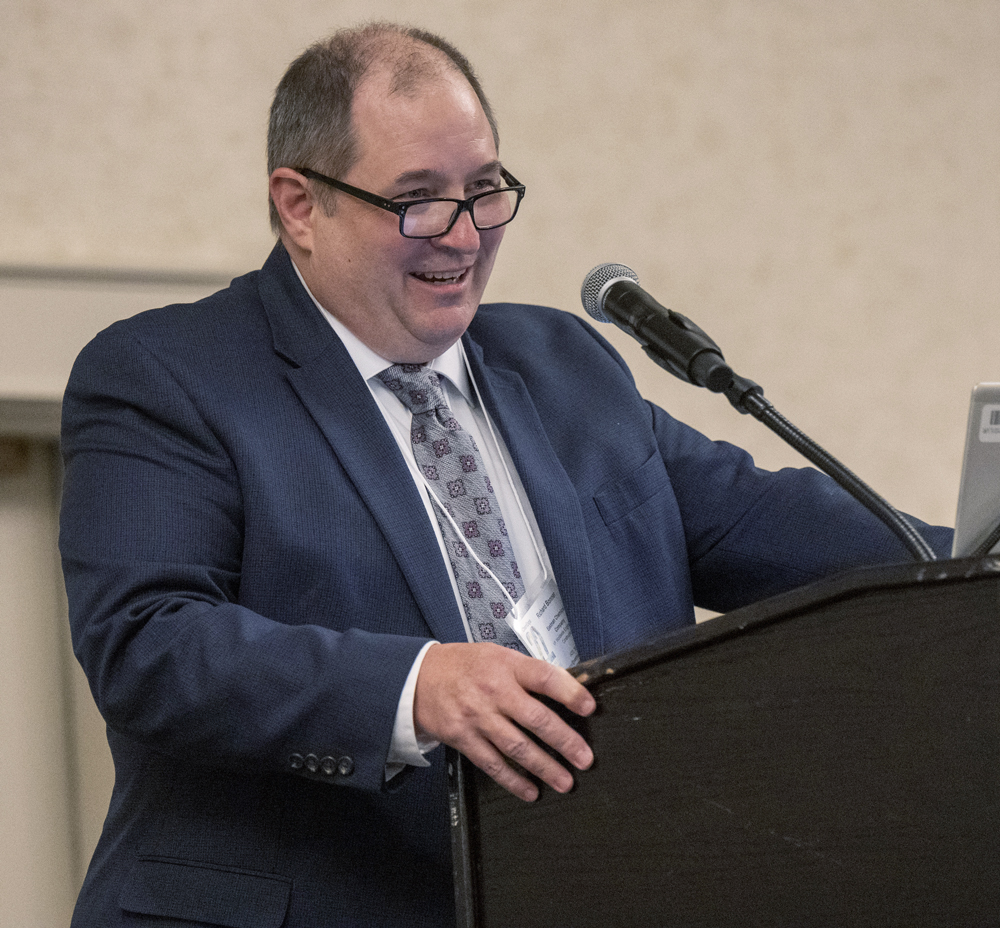 Innovation and optimization are the means to growth in the chemical industry, Richard Bonner said during Thursday's April 21 opening keynote speech at eChemExpo 2022.
Bonner, the vice president of Worldwide Engineering and Construction at Eastman Chemical Company, spoke on "New Horizons: Safely and Sustainably Innovate, Optimize, and Grow" —the exposition's theme.
The exposition, delayed since April of 2020 due to the COVID-19 pandemic, was held at the MeadowView Conference Resort & Convention Center in Kingsport. Bonner said safety, especially during these times, is a top priority.
"Think of what you're learning about and think of it through the lens of how it can make us safer," Bonner said. "It is good to be together and collaborate in this manner face to face. I'm sure we all appreciate the ability to do so again, after a couple of difficult years of necessary pandemic restrictions."
Bonner noted that Eastman asked its employees attending the exposition to isolate and return Monday after taking self COVID-19 tests.
Eastman celebrates 100th anniversary
Eastman, Tennessee's largest employer, celebrated its 100th year of operations during the pandemic in 2020, said Bonner, who showed attendees a photograph of a monument that was installed to commemorate the anniversary. The monument is now located in front of Eastman's corporate business center.
"100 years of operation is no small feat," Bonner said. "To establish such an enterprise, as Eastman, that lasts for so long and so much success, too, takes a lot of hard work."
Bonner said he's proud of the role engineers have played in Eastman's growth and sustainability over the last century.
"Now, I know there's people here who aren't Eastman team members, and I'm sure that you are equally proud of the history of your company, and the enterprises that you work for, and that you are equally proud of the technical contributions that established, grew and continued to sustain your company. And you should be."
A 100-year anniversary is an appropriate time for people to consider the conference's theme, New Horizons, "and how we will safely innovate, optimize, and grow our companies."
Bonner said the industry is now at a point in time where it is in need of technical solutions for the world's challenges, such as technical solutions for the circular economy. He also said companies are in need of solutions to conserve natural resources, fuel efficiency advances, alternative energy options to lower greenhouse gas emissions, automation of tasks to relieve the current labor shortage, and improve the safety in the workplace.
Bonner added: "And as we celebrate 100 years, we see again, that engineering and design is again in the middle of solving these challenges, like climate change, end of use, recycling, our end of life recycling of our materials, and caring for the growing society around the world.  More than ever, our company, our industry, and our society needs engineers, designers and scientists to lead the way to safely innovate, optimize, and grow, which are the keywords that we think of today, for our expo."
Bonner said these types of solutions are needed by Eastman, as well as other companies and society in general.
The speaker challenged attendees to use their time during the exposition to generate a plan for how they can contribute to safely optimizing and growing their enterprise.
Optimization, the second key, is "something that is trained into" engineers and designers. -Richard Bonner

Why innovation?
Bonner said guests should look at new technologies and ways to bring safer work environments or ergonomics. Perhaps, Bonner said, automation of repetitive tasks may be the answer. He also suggested wearable technologies that eliminate hazards and safer work protocols for manufacturing organizations.
"We also need technology and innovation to improve our processes," Bonner said. "We need to innovate processes that solve the needs of our society."
Innovation is also needed in the circular solution space, to provide better functionality of products and materials, to have less waste in manufacturing processes, and to improve the quality of work life, he added.
Bonner provided the example of virtual tools that grew in popularity during the pandemic as a significant innovation.
"All of that is innovation to me and all of it is required for us to meet the challenges ahead of us," Bonner said.
Optimization is second key
Optimization, the second key, is "something that is trained into" engineers and designers, he said.
"But we need optimization, we need it to improve our safety," Bonner said. "We need to find ways to optimize to eliminate dangerous tasks, we need better planning of the work that we do in the field so that we can be better prepared and can do it more safely."
Optimization would drive results from existing assets, through process improvement ideas, he said. It would also be needed to stretch capital dollars.
"All of our companies represented here today, regardless of the business line that you're in, share this need to stretch our investment dollars, they're precious for us," Bonner said. "And one of the best things that I've always liked about eChemExpo is the opportunity to share ideas with each other on how to stretch our capital dollars, and ensure that those dollars we invest, have the greatest possible return."
"It comes from improving our productivity, it comes from improving our safety in our plants, and in our construction industry," Bonner concluded. "It comes by solving our customers problems and their customers problems. And the only way to know what your customers problems are is to ask them what their problems are."
We need to find ways to optimize to eliminate dangerous tasks, we need better planning of the work that we do in the field so that we can be better prepared and can do it more safely.