Johnson Controls Saves Energy Now While Building for the Future
Johnson Controls highlighted two new products in presentations and at the exhibit booth at eChem Expo. Both offerings can reduce energy use in the short run and help pave the way toward a future of smart machines, according to company executives.
The new Metasys 8 interface, a building automation system that builds upon the release that came out a year and a half ago, is device-agnostic and thus runs on any platform, according to Mike Kenworthy, Johnson Controls channel sales account manager. Those platforms include iPads, iPhones and laptops, he said.
"That untethers the operator from the desktop to operate the plant from his mobile devices," Kenworthy noted. "That's one of the things we've really been focusing on the last three to five years and will be focusing on in the coming years."
The Metasys 8 combines many building functions in a single system, from lighting control to security and generators to power meters, Kenworthy said. The system also helps operators gain quick access to the information they need, so they're not sorting through a mountain of data or returning to the desktop, he added.
Besides providing functionality for tech workers, the system also provides an overview for supervisors who are interested in summaries and descriptions of problems or the priority focus for the day, Kenworthy said.
In addition to going mobile and providing information and functions at differing levels, Johnson Controls concentrated on security for Metasys 8, Kenworthy said. "We're taking as much responsibility as possible to make sure systems aren't hacked from outside."
Metasys 8 resides on the enterprise system that Johnson Controls supplies, noted Jeff Lyons, general manager of Hobbs & Associates Inc., which works as a Johnson Controls agent for sales, products and services. Johnson Controls works to pull in data from a number of systems for its enterprise view, he said.
"That's the second thing we presented at the Expo – the Metasys Enterprise Optimization suite," Kenworthy said. Metasys handles day-to-day building automation duties, he notd, while Metasys Enterprize Optimization sifts through the data that comes from the building automation system and puts it into a useable format.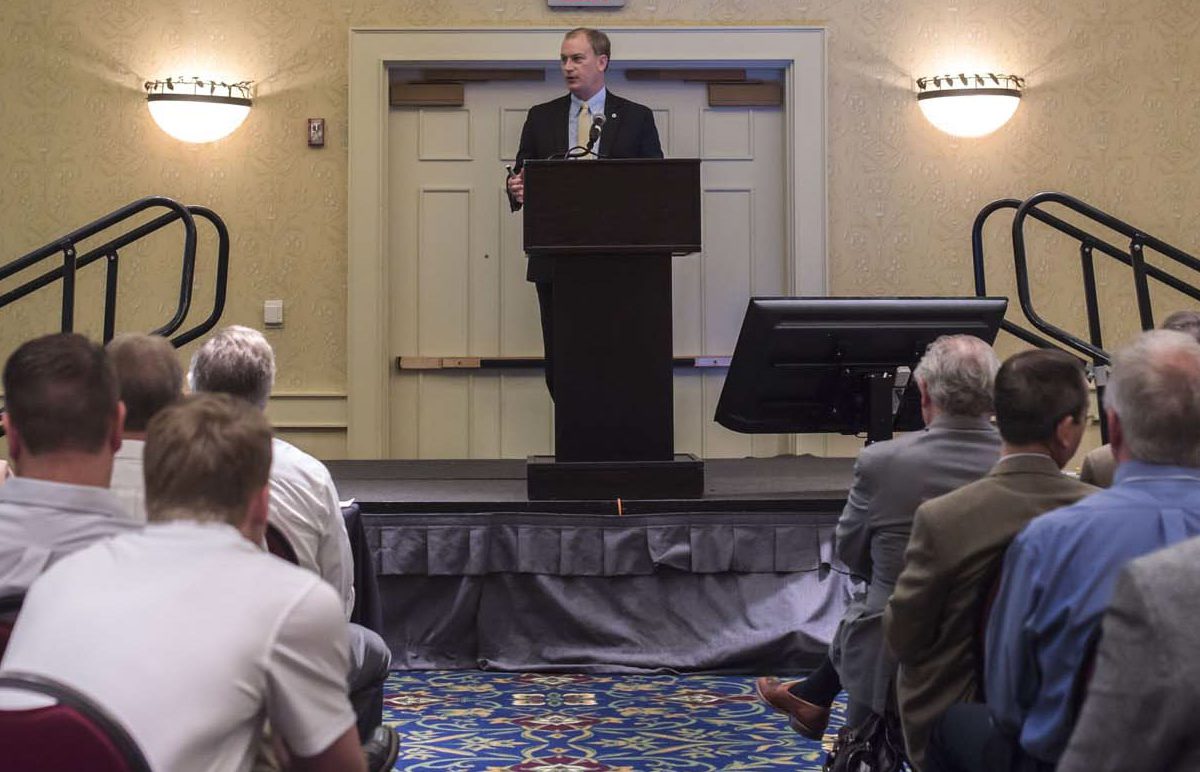 The user can monitor energy consumption for HVAC (heating, ventilation and air conditioning), and the system describes how energy consumption compares with other similar buildings, Kenworthy said. "If it's using a lot more energy than its peers, it's probably a candidate for further investigation," he noted. Without that data in the right format, that investigation would probably never happen. "If you can't measure it, you can't manage it."
The enterprise system also conducts fault detection diagnostics that can predict when machinery's likely to fail, Kenworthy said. It can generate a work order for equipment that is degrading. Besides preventing outages, the monitoring can reveal less-than-optimum operating conditions that waste energy, he said.
All of that occurs at the cloud level so that it doesn't bog down the automation system with analytic data, Kenworthy said, adding that Johnson Controls can host the information on a private cloud within an organization or the public cloud.
And both of Johnson Control's areas of emphasis – Metasys 8 and Metasys Enterprise Optimiztion – fit into the eChem Expo focus area of energy efficiency. Of the two, Metasys 8 was set for release May 20, and Metasys Enterprise Optimization has been out for a while.
At Eastman Chemical Co., Johnson Controls is providing products and services across many functions both in the production area and also outside the production area, noted Lyons. He provided the example of the company's rooftop equipment, which Eastman uses.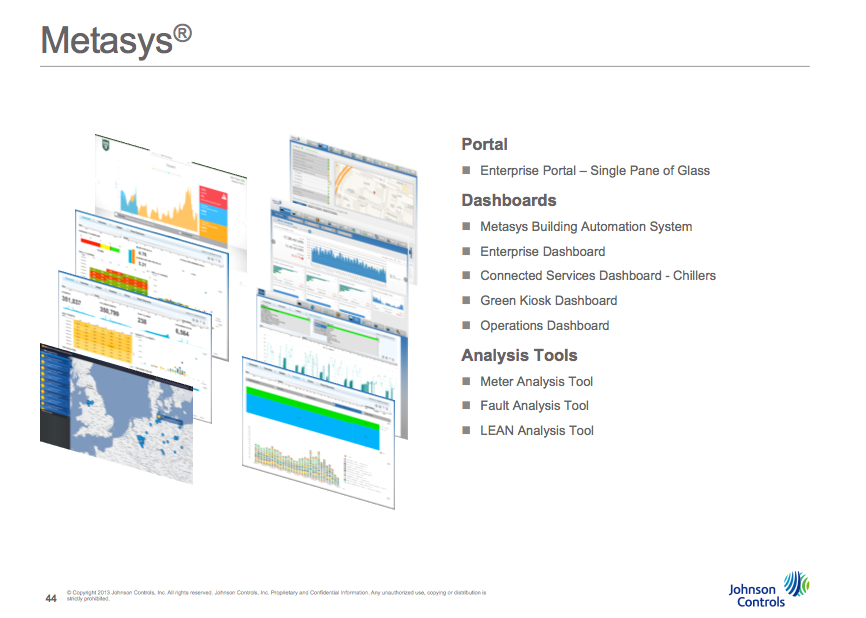 Besides working with Eastman, Johnson Controls works with other companies and institutions that attend eChem Expo, including Nuclear Fuel Services, healthcare facilities and colleges, Lyons said.
At the Expo, Johnson Controls was also touting its variable frequency drive, which ties into Metasys to bring energy information across a single three-wire bus, Kenworthy said. "There are probably 20 or so parameters that you would have to hardwire if you wanted to see those in a typical building automation system," he maintained.
The company's products and services typically address disciplines that include primarily mechanical and electrical, Kenworthy said. "Anybody who gets involved in facility maintenance or facility monitoring would be a typical user," he said.
Metasys Enterprise Optimization reaches all the way into the C-Suite, involving the chief information officer, facility directors and vice presidents – all of whom care deeply about energy use, Kenworthy continued. Top executives prize the ability to measure energy used in projects so they can understand return on investment, he said.
Organizers of eChem Expo ask exhibitors to envision how the industry will change in the next two years and in four years. While emphasizing the importance of continuous improvement, the expo also asks exhibitors what quantum leap forward they're seeking.
By 2020, the Internet of Things will take hold, Kenworthy replied. "We're already deep into the development of smart equipment," he said. That includes smart chillers that tell operators when they're not in their most-efficient operating mode and diagnose their own problems before they become catastrophic. Other equipment, including rooftops, is moving into the smart category, he said.
As more computing takes place in the cloud, analytics will expand, feeding more information into government databases, Kenworthy continued. Operators will be able to compare the performance of buildings not only within their own companies but also outside their companies, he predicted. "Best practices will be used across all industries when it comes to energy use," Kenworthy maintained.  
Big Data will rule as every department continues to collect information and ways to use it become more sophisticated, Lyons said. "We can use it to make smart decisions going forward with how to use your capital," he said.
Work-order integration will become a stronger trend, with systems alerting operators to exactly what they should do to fix a problem, Kenworthy said. "The pieces of equipment will talk back to the cloud, the cloud will analyze that data and generate a work order specific to a piece of equipment even when that piece of equipment is not necessarily in a failure state but in a state is wasting energy or operating outside its more effective range," he said. That can help save the life of a piece of equipment and reduce energy costs at the same time, Kenworthy noted.