The next eChemExpo will be held April 28, 2016. Meanwhile, check out the 2014 Solutions Marketplace below which features hundreds of products and services to save you time, improve profits, and streamline plant operations.
Launched with

Chemical Company
NEW: View the list of 2014 exhibitor websites
Download the Printable Program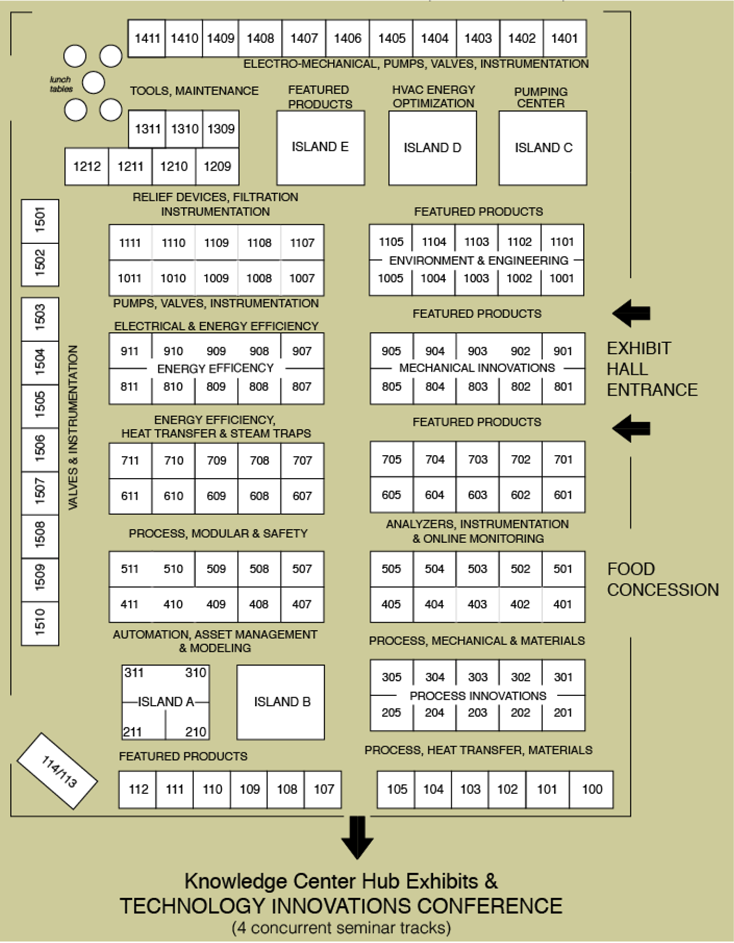 Gold Sponsors
Emerson Process Management
Teikoku USA
RedGuard
Johnson Controls
SILVER SPONSORS
Xytel
Samson Controls
Bentley Systems
Endress+Hauser
AMACS Process Tower Internals
Rain for Rent
PAS
KNOWLEDGE CENTER HUB
1. AIChE East Tennessee Section
Engineers without Borders
2. ASME Holston Section
3. ISA 100 Wireless Compliance Institute
4. ISA and ISA Oak Ridge Section
5. UT Reliability & Maintainability Center
6. Association of Energy Engineers (AEE)
7. NETS-ACS
NEW: Special Exhibits in the Registration Foyer Area
10. Processing Magazine, Water/Waste Processing
11. Gilbert Industries
12. FLW Southeast
13. Paxson Engineered Equipment, Watson Marlow, Biar
14-15. Process Supply
16. Liquid Handling Equipment
17-18.

107-08.eChemExpo Solutions Marketplace & EcoChem Strategies
PROCESS INNOVATIONS PAVILIONS
100. Koch Glitsch
101. Sandmeyer Steel Company
102. Atlas Industrial Manufacturing
103. Sulzer Chemtech
104. JLS International
105. Total Filtration Services (TFS)
109. RECO USA
110. WEG Electric
111. Mountain Air Compressors
112. Training Solutions
113-14. SIHI Pumps
201. Nash Vacuum
202-03. Carl Eric Johnson, Inc.
Chemineer, Moyno
Grundfos, Tranter
204. Koch Heat Transfer
205. AMACS PROCESS TOWER INTERNALS
301. ErgonArmor Corrosion Engineering
302. Houston Polytank
303. Flottweg Separation Technologies
304. Busch Vacuum Pumps & Systems
305. Komline Sanderson
ISLAND B –
EMERSON PROCESS MANAGEMENT
ISLAND A
210. Mynah Technologies
211. Alfa Laval
310-11. GE Measurement & Control
BUSHONG INDUSTRIAL SECTION
401. Paul Mueller Company
402. Enerquip
403. Hooper Welding
404. Mercen
AUTOMATION, ASSET MANAGEMENT & MODELING
405. PAS
407. NovaTech
408. Chemstations
409-10. P.O. DesMarais, Yokogawa
411. RoviSys
ANALYTICAL
501. Julabo
502. Metrohm USA
503. Thermo Fisher Scientific
504. Mettler Toledo
505. RVT Process Equipment
ENGINEERING & SAFETY
507. Neuman & Esser
508. Ekato
509. United Electric Controls
510-11. ASCO Numatics
ANALYTICAL & INSTURMENTATION
601. Ludeca
602. Bar Environmental, JWC Environmental
603. Regal-Brown
604. Invensys, Foxboro
605. Ariel Compressors
PROCESS & SAFETY
607. Fike
608-09. Wolseley Industrial Group
610. UltraSafe
611. Spirax Sarco
FEATURED PRODUCTS
701-02. REDGUARD
703. Sentry Equipment Corporation
704. James Machine Works
705. CEM Corporation
ENERGY EFFICIENCY & STEAM TRAPS
707. National Heat Exchange Corporation
708. Armstrong International
709. Fluid Flow Products, Flexim Americas Corp.
710. Qmax
711. Forum-Quadrant Valve
FEATURED PRODUCTS
801. TEIKOKU USA
802. Hagler & Associates
803. Ward Tank Company
804. Edwards Vacuum
805. Parker
ONE WESCO PAVILION
807. Eaton Electrical
808-10. One WESCO
811. Siemens Industry
FEATURED PRODUCTS
901. XYTEL
902. Titan Metal Fabricators
903. VSP Technologies
904. Tricor Metals
905. Bentley Systems
ELECTRICAL & ENERGY EFFICIENCY
907. UE Systems
908-09. Rexel
910. Siemens Process Automation
911. Siemens Building Technologies
ENVIRONMENT & ENGINEERING PAVILION
1001. RAIN FOR RENT
1002. Festo Corporation
1003. Berndorf Belt Technology
1004. Victaulic
1101. Mesa Associates
1102. PSA
1103. Little John Engineering
1104-05. Moore Industries
CAROTEK PAVILION
1005. SAMSON CONTROLS
1007. ENDRESS+HOUSER
1008. Ashcroft
1009. AMRI, Pepperl+Fuchs
1010. DFT
1011. Viking Pump, Warren Rupp
ABERNATHY THOMAS PAVILION
1107. Farris
1108. Zook
1109. Western States Centrifuge
1110. Van Air
1111. Eaton Filtration
1209. ITT Engineered Valve
1210. Jacoby Tarbox
1211. BLS Safety Showers
1212. Diversified Heat Transfer
ISLAND C – PUMPING SHOWCASE
Tennessee Process Pumps
ISLAND D – HVAC ENERGY & OPTIMIZATION SHOWCASE
JOHNSON CONTROLS
ISLAND E – GEORGE C. PARIS COMPANY
K-Patents, TOSHIBA
FCI, Promecon
APIX, Novus Automation
PUMPS, VALVES, INSTRUMENTATION
1401. Flowserve
1402. Cole Parmer Instrumentation
1403-04.Tencarva
1405. AZBIL North America
1406. MRC Global Valves & Fittings
1407-08. Electric Motor Sales (EMS)
NEW: TOOLS & MAINTENANCE SECTION
1309. ACE Industrial
1310. Rexel, Morse Cutting Tools
1311. Howden North America
1409.
1410.
1411. MSA Safety
VALVES & INSTRUMENTATION
1501-02. PICO, Mogas, Vega
1503. Control Equipment Corp.
1504. Clark Reliance
1505. TLV
CROSS INSTRUMENTATION SECTION
1506. Cross Instrumentation
1507. Brooks Instrument
1508. Continental Disc/Groth
1509. Metso Automation
1510. Ridge Valve & Fitting