View the conference page for exhibiting companies participating in the seminar program.
Floor Plan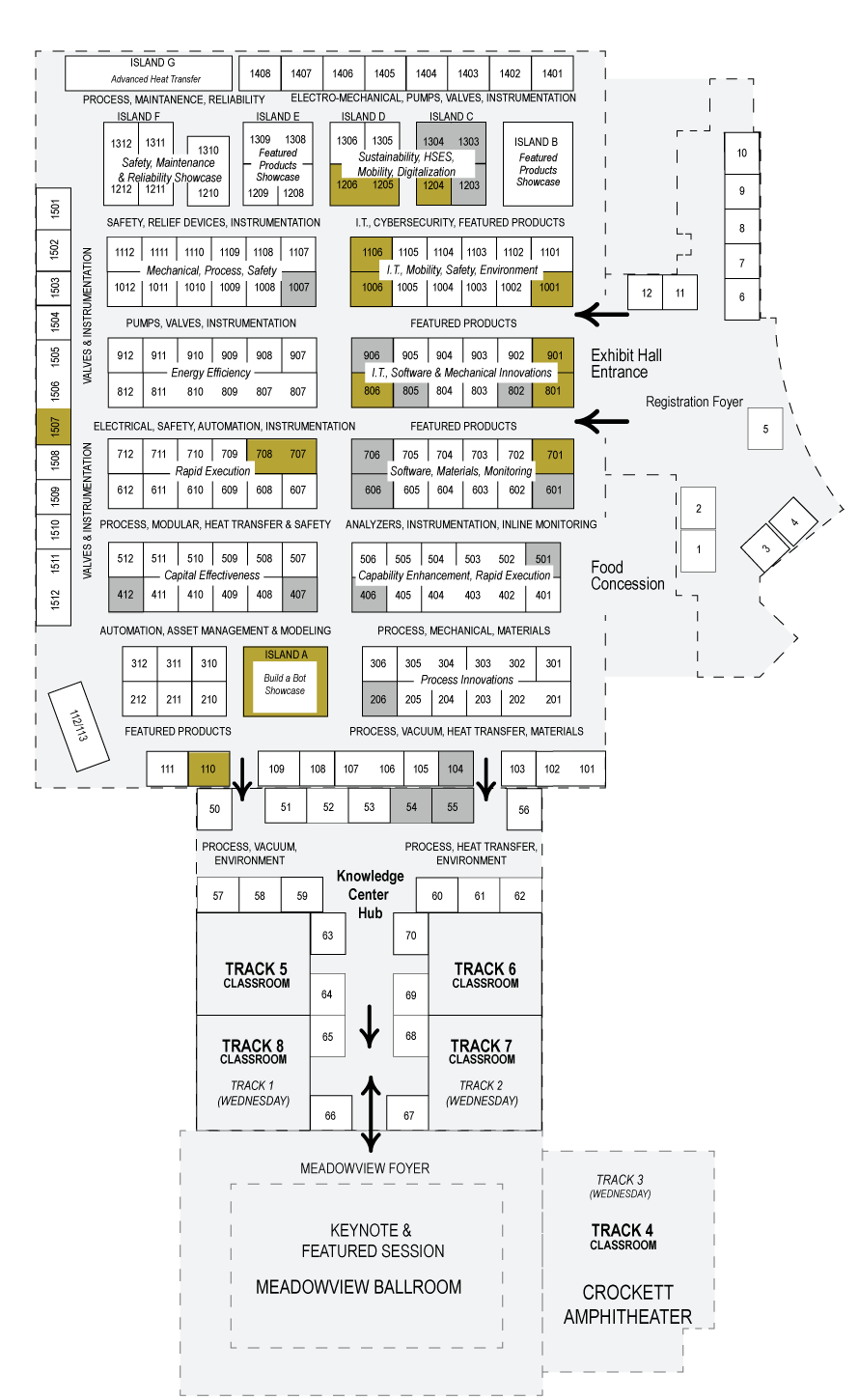 2021 EXHIBITOR LIST
Gold Sponsors
ATR
AUTOMATION ANYWHERE
AVEVA
BLUEPRISM
CONSTRUCT-X
EATON
HEXAGON
ROCKWELL AUTOMATION
SAP/SAP ARIBA
SCHNEIDER ELECTRIC
TEIKOKU USA
TLV CORPORATION
SILVER SPONSORS
BakerRisk
Bartec
CV Technology
Dürr Systems
Ekato
Enthought
John Crane / Seebach
Koch-Glitsch
Peopleflo Manufacturing
Pepperl+Fuchs
Paget Equipment
Process Systems Enterprise (PSE)
RoviSys
Seeq
Siemens
Southwest Research Institute
Tenable
Yokogawa
REGISTRATION FOYER
1.2.3.
4.Thompson Construction Group
5. Yates Construction
6.-10.
11. University of Tennessee, Graduate and Executive Education
12. Burns & McDonnell
KNOWLEDGE CENTER HUB
50.Mersen
51.Gardner Denver Nash
52.Kimre
53.QMax
54.Process Systems Enterprise PSE)
55. Koch-Glitsch
56.Koch Heat Transfer
57.Raschig
58.RedGuard
59. Anguil Environmental
60.
61. Total Filtration Services
62.Rousellet-Robatel
63.
64.
65.ISA East TN Section
66.ASCE, ASME, IEEE local sections
67. AIChE East TN Section & PDH Accreditation Center
68.NETS-ACS
69.
70.
MAIN EXHIBIT HALL
PROCESS, MECHANICAL, MATERIALS
101-102 Flowserve
103. JLS International
104. Paget Equipment
105.Control Southern
106-107.Emerson Automation Solutions
109.eChemExpo Headquarters
110. ROCKWELL AUTOMATION, Kendall Electric
111.
112-13
201-202. Process Controls Corp: Biazzi, Western States, Lodige, Lightning Eliminators
203. RVT Process Equipment
204.Controls Southeast
205.CG Thermal
206.On hold (Silver)
301.Aspen Aerogels

Carl Eric Johnson Section (302-306)
_302-303. Heatec
_304-305.Carl Eric Johnson
_306.Hellan Strainers

401. Busch Vacuum Solutions
402-404. Centro Showcase:
_402.Schneider/Foxboro
_404. Quest-Tec Level Instrumentation, Fox Thermal Flow Measurement
_404. 3M Purification and Filtration
405. RECO USA, RECO Constructors
406. Southwest Research Institute
AUTOMATION, ASSET MANAGEMENT & MODELING
ISLAND A – AUTOMATION ANYWHERE
210.Industrial Networking Group
211.
212. Applied Industrial Technologies
310.Beamex
311.Evans Consoles
312. NovaTech Solutions
407.Yokogawa
408.P.O. DesMarais
409. Chemstations
410.
411.W.T. Maye, Inc., FCI
412. RoviSys
ANALYTICAL, INSTRUMENTATION, INLINE MONITORING
501.Siemens
502-03. Rawson Industrial Controls
504.Berthold Technologies
505.FLW SE
506.MarqMetrix
601.On hold (Silver)
602.Teledyne Analytical Instruments
603.Bruker Optics
604. Thermo Fischer Scientific
605.Specac
606. Dürr Systems
PROCESS, MODULAR, HEAT TRANSFER & SAFETY
507. On Hold (Silver)
508. Brozelco
509. Gilbert Industries
510. Flottweg Separation Technologies
511. Tencarva
512. Keckley
607. Ariel Compressors
608.
609. Atlas Industrial Manufacturing
610. Hayward Tyler
611.
612. Samson
FEATURED PRODUCTS
701. CONSTRUCT-X
702. C.U.R.T. (Construction Users Roundtable)
703. Polymers Center of Excellence
704. Kenway Composites
705. WJE Associates
706. On hold (Silver)
801. TEIKOKU USA
802.Ekato
803. Ward Tank & Heat Exchanger Corp.
804. Structural Integrity Associates
805.John Crane/Seebach
806. AVEVA
901.On hold (GOLD or possibly Silver)
902.
903. The Colt Group
904. Samuel Pressure Vessels
905.
906. Bartec
1001. ATR
1002. RCAM
1003. On hold (Silver)
1004. RPS Composites
1005. Buckeye Fabricators
1006. HEXAGON
ELECTRICAL, SAFETY, AUTOMATION, INSTRUMENTATION
707-08. EATON
709. CEM Corporation
710.Hayward Tyler
711.SHECO
712.United Electric Controls
WESCO/Anixter PAVILION
807-811. WESCO/Anixter
812. MRC Global
INFORMATION TECH., MOBILITY, SAFETY &ENVIRONMENT
1101. Amazon Web Services (AWS)
1102.OSIsoft
1103.Symphony AzimaAI
1104.Seeq
1105. Exloc
1106. SCHNEIDER ELECTRIC
ISLAND C
1203.Tenable
1204.BLUEPRISM
1303-1304. Peopleflo Manufacturing
ISLAND D
1205-1206 SAP/SAP ARIBA
1305.
1306. Howden
PUMPS, VALVES INSTRUMENTATION, ELECTRICAL
907. On hold (Silver)
908. Fike
909.Paxson Engineered Equipment
910.Lone Star
911 Swagelok
912.Spirax Sarco
CAROTEK PAVILION
1007. Pepperl+Fuchs
1008-1009. Endress+Hauser, Kaiser Optical Systems
1010. Ashcroft
1011. Thermon
1012. Viking Pumps, Warren Rupp
FILTRATION, RELIEF DEVICES, INSTRUMENTATION
1107.On hold (Silver)
1108.Portersville PRD
1109.
1110. UE Sytems, Inc.
1111. RKI Instruments
1112. Acuran Inspections
ISLAND B – FEATURED PRODUCTS SHOWCASE
TBA
SAFETY, MAINTENANCE & RELIABILITY SHOWCASE
ISLAND E
1208. On hold (Silver)
1209. CV Technology
1308.-1309. Voigt Abernathy
1210-1310. Andon Specialties
ISLAND F
1211. Integrated Power Services
1311. AC Controls
ISLAND G – ADVANCED HEAT TRANSFER SHOWCASE
Alfa Laval
PUMPS, VALVES, INSTRUMENTATION, ELECTROMECHANICAL
1401-02. EMS, Yaskawa, Baldor, Red Lion
1403.
1404. Liquid Handling Equipment
1405.Forum Energy – Quadrant Valves
1406. VSP Technologies
1407.Verder
1408. AZ Valves North America
VALVES, PIPING & INSTRUMENTATION
1212-1312. FloWorks/Sunbelt Supply Co.
1501.VEGA
1502.WACCO
1503.PSA
1504.Wolseley Industrial Group
CONTROL EQUIPMENT SECTION
1505. Control Equipment
1506. ABB Instrumentation
1507. TLV CORPORATION
1508. Cross Instrumentation
1509. Koso Americ
1510. Groth Corporation
1511-1512. AWC Inc.
PSA, Flowserve Control Valves, Krohne
Flotwegg Separation Technology
ErgonArmor
Paul Mueller Company
402, THORPE PLANT SERVICES
403. Hooper Welding
504. Andon Specialties
505. Metrohm USA
506. Pick Heaters
504. Andon Specialties
505. Metrohm USA
506. Pick Heaters
601. Innovatia
602. Epcon Software (tentative)
603. CEM
604. CIRCOR Sampling
509. Koch Knight
510. HFW Industries
607. Southgate, Standard Exchange
612. National Heat Exchange Cleaning Corporation
702. Mott Corporation
703. BHS-Sonthofen Inc.
704. Kenway Composites
705.
706. Applied Chemical Technology
804. KCI Technologies
805. Paxson Engineered Equipment, Watson Marlow Pumps, Biar Sampling Systems
806. Xytel
902. Hargrove E+C
903. The Colt Group
904. U.E. Systems
905. Optiv Security, Attivo Networks, ForeScout Technologies
906. JOHNSON CONTROLS
1001. VOOVIO
1002. Flowrox
1003. Rain for Rent
1004. Rowland Safety
1005. CV Technologies
1006. Nestec
907. Pepperl+Fuchs
909. Pumpworks
910. Amresist, QTRCO
1007. Endress+Hauser
1008. Ashcroft
1009. Sulzer Pumps Solutions
1010. Viking Pumps, Warren Rupp
1011. DFT
1012-1112. BS&B Systems
TEMP
test